By 2018, the ICT4D Cambodia Network restarted to call for core network meeting (Advisory group) that we have not met each other for a long period of time, by facilitating the important of its meeting among core members to present and sharing operational planning of the network to be offered advice and support by its core members. This is also strengthened the collaborative of ICT4D Cambodia Network to promote the use of ICTs for improving development projects in Cambodia among CSOs/NGOs. The core network meeting was taken place on the 4th of May, 2018, at the ODC/EWMI Office attended by 7ps.
Participants:
| | | | |
| --- | --- | --- | --- |
| No | Name | Gender | Organizations |
| 1 | Mak Puthea | Male | ICT4D Cambodia Network/ODC |
| 2 | Uth Sophea | Male | WMC |
| 3 | Ye Sokvutheavy | Female | CCC |
| 4 | Sin Kimsean | Female | CCSS-EWMI |
| 5 | Rin Channara | Male | FHI360 |
| 6 | Sokhan Sereyvisith | Male | FHI360 |
| 7 | Channe Suy | Female | InSTEDD iLab South East Asia |
SPIDER ICT4D Cambodia Network
SPIDER has been supporting the initiative of a collaborative ICT4D network since 2012 to promote the use of ICT for development in Cambodia. Nevertheless, Spider also supports many last and recent projects implemented by InSTEDD iLabs South East Asia, EWMI, ODC, and WMC to develop ideas, prototypes and pilot solutions for CSOs, and building an open data platform for the needs of CSOs and its people in using those data and information for individual purposes promoting accountability and transparency in the country. Recently, the network was decided to move on to a round hosting (Rotation) lead by primarily partners organizations who founding the network. Currently, Open Development Cambodia (ODC) is hosting the lead of the project which is supported by SPIDER from 2018.
Core member organizations
Within the ICT4D Cambodia Network project, the core network members are the organisations that initially founded the network in 2013 such as East West Management Institute (EWMI), Open Development Cambodia (ODC), Innovative Support to Emergencies disease and Disasters (InSTEDD), Open Institute (OI), and Women's Media Centre of Cambodia (WMC). The core members also invited the 2 more latterly Cooperation Committee for Cambodia (CCC) and Cambodian Center for Human Rights (CCHR). This year (2018), the network would like very pleased to announce few more organizations include that's working very strong role in promoting access to quality and equity education; and improve health system in Cambodia in which Aide et Action International and Family Health International (FHI360) have already confirmed to become core member, and WEWORLD is yet to be informed.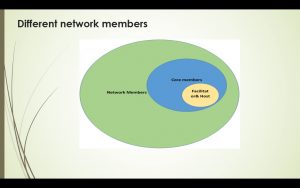 ToR: Draft version
Given the suggestion from some members of core network, the drafted version of Term of Reference (ToR) of core members have been set up to make them understand clearly and accordingly their role and responsibilities in order for them to give suggestion and direction ensuring that network is in progressive accordingly. However, ToR is not meant to put any pressure any sides both core member organizations and host/facilitator, and if so, it is subjected to make further consideration and changes.
***Action (TBC): It is suggested by the facilitator to send any feedbacks and comments in relation to the drafted ToR that was already sent to all core members.
Different Network Members
3 different network members engage into the ICT4D Cambodia Network are categorized as present in the picture below.
Network Members: Organizations who are invited to events, trainings etc. This is the target group of the ICT4D Cambodia Network
Core members: Organizations who are founding the network and invited organizations. Advisory in discussions of the future of the network, planning of events etc.
Host org & Facilitator: Responsible for running of the Network, events, reporting, audits etc.
Thematic areas of the ICT4D Cambodia Network
In 2017, the network started into sectorial meeting such as ICT for education, health, and social advocacy by working with relevant CSOs/NGOs, ICT NGO projects, and practitioners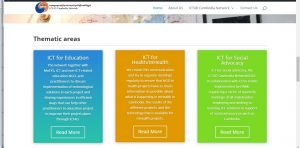 in Cambodia to discussion implementation of technological solutions in each projects and sharing experiences about what is happening in each sectors in a way that other practitioners can learn, improve knowledge, and strengthen their projects through using ICTs.
In social advocacy, the network has been working in collaboration with the Cambodian Civil Society Strengthening Project (CCSS), which is funded by USAID and implemented by East-West Management Institute, Inc (EWMI). This ICT4D meeting organized regular quarter basis discussing ICT4D related-social and advocacy issues that would benefit CSOs' projects to improve communication strategy, update digital security, and build awareness on ICT practical and knowledge. A similar structure is also designed and used in Health and Education meetings and anticipating to extent organizing into agriculture sector in the planning 2018 (Please, see detail in section Planning).
Suggestions:
·        Some of sectorial meetings should be invited all of each sector organizations to come together to share and learn from each other experiences what their projects and how technology could solve their problem. It helps building increased knowledge those limited organizations even though they have been employing technology but a barrier of practical technology knowledge experiences is also a matter for them, and for some reason that sharing the same presentation should be involved all organizations at the same time to make any flexible and convenient for presenters, if applicable.
·        The invitation should be opened to core member organizations of the ICT4D whether they can attend each sectorial meetings in order for them to learn more from their participant organization's challenges and practically technology experiences.
·        Understanding more nature of each members of the core network and/or as well as other organizations within the network, the facilitator should map out who (organizations) doing what and what kinds of services/expertises that each organization provide.
·        In Cambodia, there is seen a number of projects introduced technology built and developed many apps/web-apps which has invested in a larger budget in it but still limitedly scientific researches to prove which is best practices ICT4D implementation projects and what technologies are currently still working effectively and securing sustainability profits for improving social development issues in Cambodia. Is there any research study?
Annual national workshop
Every years, it will always happen conducting annual national workshop on ICT4D in Cambodia that bring out together the government, CSOs/NGOs, private sector, researchers, and practitioners to discuss ICT4D related issues in Cambodia in order to urge the openness of a collaboration between the government and CSOs/NGOs in promoting wider public discussion and ensuring the increased of access to information through using communication technology (ICTs) for Cambodian at the grassroots level.
In 2018, we are planning to organize the "national ICT4D workshop/camp" in conjunction with adapt some approaches/experiences from Mekong ICT Camp that ODC was one of the lead organizers last year, 2017 exploring to only Cambodian CSOs an opportunity to address their needs to the use of ICT for development (ICT4D). This may be like a hand-on workshop to present, share, and coach some specific tools to CSOs in enhancing ICT's skill and accessibility that might be taken place 2 or 3 days together in any provinces (Dependent on the available budget). The idea above was already shared into the CCC's ICT Working Group recently by ODC and therefore, it will be later shared concept note to organizations whom may interested in and ODC together with the network and its core members will joint fundraising for the proposed event in 2018.
***Action (TBC):
·        The meeting agreed initially to the proposed idea of organizing "national ICT4D workshop/camp" that will probably be able to conduct in between September to November, 2018. The further detail of the preparation of workshop will be discussed during the 2nd core network meeting will be happening in July/early August.
Suggestion:
·        There is still limited knowledge gaps on ICT4D among CSOs/NGOs works due to very few space provisions in order for them to learn what available technologies have had developed and how technology may solve their development projects. Building a regular conference or annual workshop for CSOs/NGOs specially, is even best for raising awareness and building knowledge on ICT4D in Cambodia among CSOs/NGO. That's is the role that the ICT4D Cambodia Network should do.
·        Furthermore, BarCamp is an open invitation for all to come for free but what we have seen in practical it is now focusing more working with business sectors, startup rather than CSOs/NGOs.
Planning for 2018
There is below the agreed planning for 2018 that the ICT4D Cambodia Network will implement under supervision and kind support from ODC in collaboration with all core network members.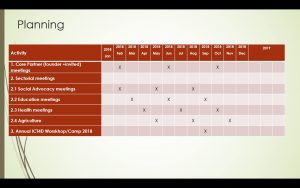 Suggestion:
·        For next core network meeting, we will discuss in a bit more detail how each planning should do. Thus, it should be written particular expected output, how many participants, topic, and date…ect. And what will assist from the core network.